Moringa oil is an amazing substance. If we were to write a story about this precious ingredient, it could begin with the words:
Far, far away… at the foot of the greatest mountains of the world… there grow wonderful Moringa oleifera trees… They conceal magical power known for ages.
Each part of the tree is useful. It outclasses lots of appreciated products with its nutritional value (moringa has much more vitamin A than carrots; about 17 times more protein than milk; 25 times more iron than spinach and 7 times more vitamin C than oranges). Moringa seeds can disinfect water whereas moringa bark can be used for making ropes and paper.
No wonder the oil extracted from the seeds of the wonderful tree is among the most valuable healing and beautifying substances.
Moringa oil is a rich source of vitamins, amino acids, minerals and antioxidants. Vitamins A, B1, B2, B3, C prevail among the ingredients. Moringa oil offers a large concentration of calcium, copper, iron, magnesium, phosphorus, potassium and zinc. Omega-9 oleic acid is the main fatty acid in moringa oil (more or less 70%). The monounsaturated fatty acid perfectly matches medium porosity hair which is the most common hair type.
Apart from healing properties, moringa oil offers cosmetic uses. It's very successful in hair care and repair. Moringa oil has the ability to bring back health and beautiful looks to weak and thinning hair. You can buy pure moringa oil in lots of online shops. Sadly, it's rare in beauty products.
Luckily, the cosmetic industry has an extremely rich offer. While searching for an ideal hair oil, you'll surely stumble upon many different oils that impress with their properties. For example, marula oil (intensively moisturizing and protecting), avocado oil (vitamin bomb) or maracuja oil (rejuvenating, reinforcing hair elasticity and delivering amazing shine).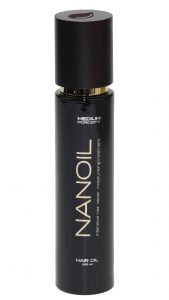 In the pursuit of perfect cosmetics, you should take a look at the ones that abound in natural, properly selected oils and provide a remedy for damaged hair, protect and beautify it, ideally matching its structure. Nanoil hair oil is one of the best products on the market. It's an innovative cosmetic. Its composition and effects result from the power of natural and appropriately chosen top-quality oils. Nanoil hair oil comes in three versions; each matches a particular hair structure and porosity. As a result, women who have thick, heavy and low porosity hair, as well as those who struggle with damaged strands, will be able to choose proper hair care. What is more, Nanoil offers more than an array of natural oils. Their power is intensified by invaluable ingredients: silk, panthenol, lanolin, keratin, vitamins – the substances with strong repairing and beautifying properties. In combination with the oils, they create a huge weapon in your battle for a healthy and pretty hairdo. Nanoil hair oil can regenerate hair from the bulbs to the ends. Thanks to the unique components, it boosts body and hair growth, stopping hair loss and thinning. It's an excellent cosmetic, free from parabens and silicones so it's suitable for scalp use. Nanoil hair oil outshines hair masks, balms and conditioners.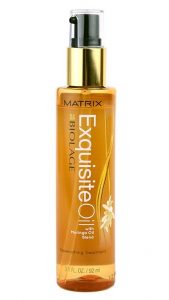 Fans of moringa oil will definitely want to test Matrix Biolage Exquisite Oil. The nourishing oil for all hair types aims at protecting hair during daily hairstyling routine and taming unruly strands. The product is composed of 3 oils valued in beauty care: Moringa Oil, Argan Oil and Macadamia Oil. Apart from disciplining and beautifying your hairdo, the cosmetic protects from toxins and makes hair resistant to the unfavorable weather conditions, sunlight, frost, strong wind. Matrix Biolage Exquisite Oil works inside and outside, rebuilding damage. Unfortunately, Matrix Oil with moringa oil doesn't work for scalp oiling because it includes silicones and alcohol. On the other hand, it helps to fight non-stop frizzy hair and dry hair tips.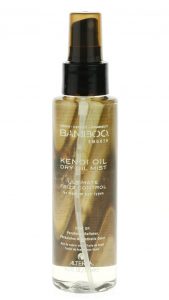 Alterna hair oil spray is a good solution for women who have fine and delicate hair, always tangled, frizzy and difficult to style. Kendi Oil Dry Oil Mist Frizz Control is a lightweight mist for styling and smoothing your hair. It has a beautiful, refreshing aroma. The oil quickly beautifies your hair without weighing down. Alterna Kendi Oil is easily absorbed. You can use it several times a day; whenever you feel your hair loses shine and vitality. Young bamboo shoot extract, maracuja oil and candlenut oil smooth your hair and deliver vitamins. Jojoba oil controls sebum secretion.