CHI is famous for high quality stylisation and conditioning products for hair. It often implements the power of essential oils in its products. For the particular attention deserves pink hair conditioner CHI Miss Universe in form of oil, that is supposed to protect and rejuvenate hair.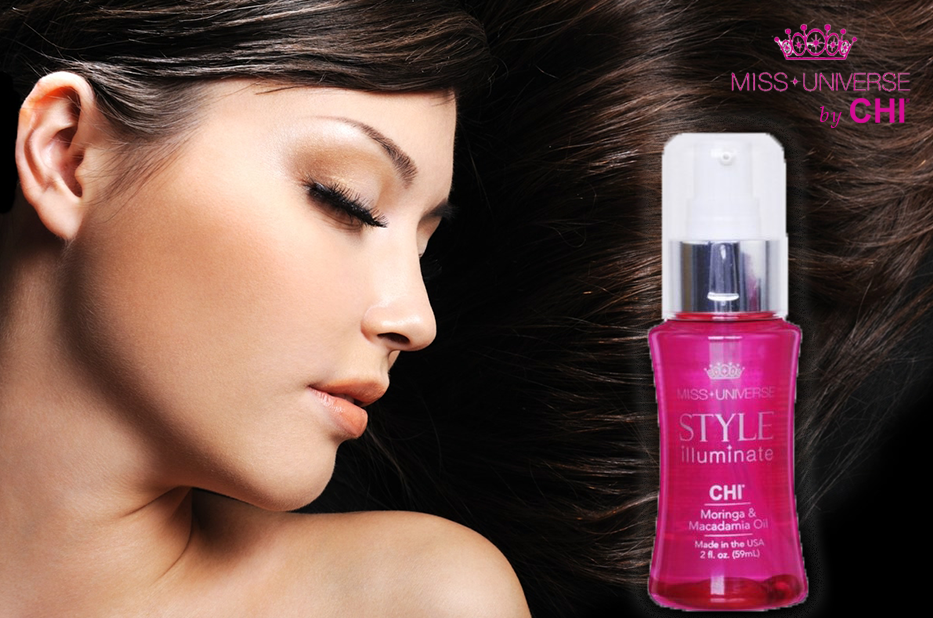 CHI Miss Universe is an oil with pretty bottle in pink colour and volume of 59 ml/2 fl. oz. The bottle is equipped in a pump, that makes application of the product easier. Oil is available also is smaller version – 15 ml/0.5 fl. oz. Therefore, if you prefer to first try its properties, or you are going away and you do not want to take to much additional luggage and heavy bottles of the cosmetics – the travel version of CHI oil is for you.
Miss Universe oil contains two perfect and natural oils: moringa and macadamia oil. These are valued for their intense conditioning and regenerating properties on hair. Both macadamia oil and moringa oil are dedicated for medium porosity hair – i.e. slightly damaged, requiring protection and regeneration, which without use of right products can frizz, become dry and damaged. Medium porosity hair have the majority of people around the world.
Thanks to moring oil hair stop age, gain gloss and moisture. Beside strong rejuvenating properties, moringa oil takes care of scalp, cleanses it and regulates level of sebum. Moringa oil is rich in antioxidants and vitamins A and E. On top of it, moringa protects hair against damages from the external world as well as unfavourable atmospheric factors such as wind, freeze and the sun.
Macadamia oil is a lightweight oil, that does not weight down hair, absorbs fast and takes care of youth and beauty of hair. What is more, macadamia oil consists of squalene, natural ingredient of human sebum. For this reason it takes care of right sebum level on the scalp.
Both macadamia oil and moringa oil prevent water loss from the inner hair structures and make strands become bouncy, nourished and full of gloss. CHI Miss Universe moisturises hair, helps with stylisation, immediately conditions and does not leave greasy layer.
CHI Miss Universe was enriched also with protein, that provide protection and "seal" the entire hair. Miss Universe with moringa and macadamia oil is suitable for use on damp and dry hair. It does not require rinse.