Moringa oil is obtained from the kernels of tree growing in the India. The tree, from which the oil is extracted, is called the tree of life, miracle tree or the tree of wonders for a good reason. It is used in whole for medicinal or conditioning purposes. Leaves as well as fruits, flowers, roots, pods, bark and nuts of "miracle tree" are useful and find use in both medicine and cosmetology. Horse radish tree is immune to diseases and bugs and the significant part of tree is edible. Its leaves and fruits are true vitamin bomb and help eliminate vitamin and trace elements deficits in areas of the world affected by the famine.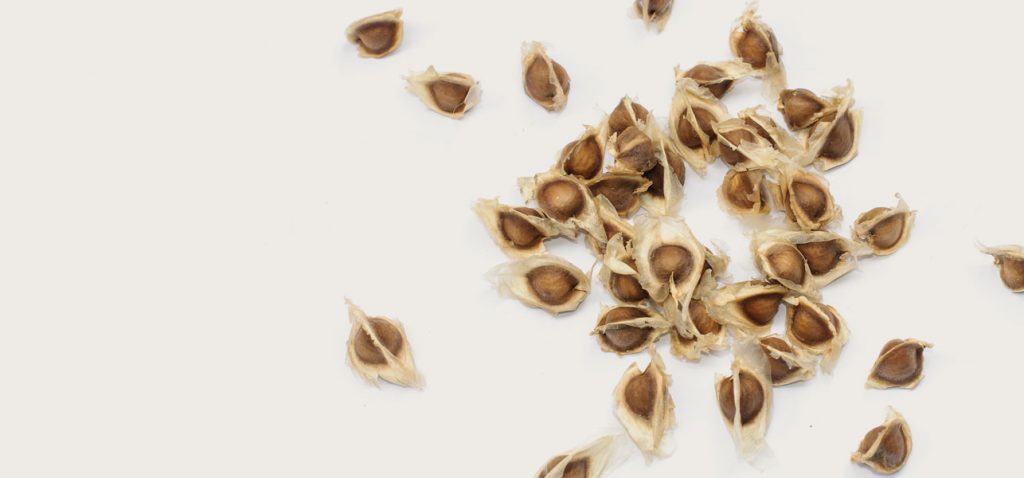 Obtained from the kernels, moringa oil has wide use in cosmetology. It is irreplaceable especially in hair and skin care. What will you gain with moringa oil?
resists rancidity and can be stored for a long time (even up to few years)
regenerates skin of face and scalp
moringa oil in great way cleanses skin, helps get rid of toxins and makes absorption of good elements easier
moringa seed oil eliminates dandruff
used on the skin of face eliminates acne and acne scaring
moringa oil calms irritations of skin (can be used after tanning)
moringa will help also everyone who tries to grow hair, because it stimulates hair growth
moisturises dry skin and soothes irritations (involves not only skin of face and body, but also dry scalp)
moringa oil cleanses skin pores and highlights skin by improving its complexion
normalises sebum secretion – therefore prevents overproduction of sebum on scalp, so strands stop grease while overly dry scalp and hair gain moisture
moringa oil contains fatty acids omega-9: due to the fact it is best for hair care of medium porosity hair (this type have majority of people in the world)
An interesting fact, not related to cosmetology, is that powdered leaves of moringa tree are used for water purification. One gram of leaves added to one litre of water eliminates all bacteria, including even e cola germs.